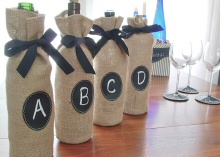 There is no doubt that one of the most enjoyable ways for a group of wine lovers to learn about wine is a "blind tasting" where the participants sample several wines without knowing what they are until after the wine is tasted. This is a wonderful way to learn about wine, however there are a couple of issues that you need to be aware of.
First, you want to be sure that your guests will enjoy and embrace the opportunity to examine and evaluate wines rather than simply quaffing it. This is a given for you Monterey Wine Club members, but you might want to sample sentiment among a few of your group before inviting them in for a semi-serious tasting session.
The second issue is a little more subtle: You'll want to set the degree of difficulty of your wine challenge to fit the level of knowledge of the average member of your group, and you'll want to avoid, by all means, having your blind tasting turn into a game of one-upmanship. Try being sensitive to the interests and feelings of all your guests, and avoiding having those who don't do as well feel bad about that. A good way to avoid this would be to make comments and voting anonymous. Simply have everyone write their comments, selections or guesses on a sheet and drop them into a hat. Then host the can tally the results.
Every group will have one, hopefully, self-proclaimed know-it-all. This person will do their best to make other's opinions seem unworthy. However, the great thing about blind tastings is that the know-it-alls will be instantly humbled because of the unique tasting format. This is because most of their knowledge of wines is based on labels and origins. Their preconceptions of wines cloud their sensory evaluation. Conversely, those who like certain wines just because they taste good will enjoy this type of tasting immensely.
Don't think of a blind tasting as a game, exactly. Think of it more like a learning experience that just happens to be fun. A group of wine lovers surrounding a festive table with three, four or six bottles wrapped in paper bags, trying to learn and discover by tasting, comparing and contrasting.
Having totally unknown bottles and requiring people to guess what's what is certainly the most difficult way to do this, and frankly, it is not recommend it for most groups. An easier, and perhaps more educational tasting format are the following variations:
What's This? (Varietal):
Select a few wines of similar-only-different type, let your guests know what the wines are, and invite them to try to determine which is which. This can be a very good way to sharpen your palate, and it would be easy to set this up as either a discussion-group event with no winners, or as a scoring game with points for each correct guess. You can do a flight of four red wines made from different grapes, giving your group the opportunity to pick out the differences between Cabernet Sauvignon, Pinot Noir, Syrah and Merlot or with whites like Chardonnay, Sauvignon Blanc, Riesling and Gewurztraminer.
Where's It From? (Appellation or Origin):
Play a geography game, with similar Cabernet blends from California, France, Chile and Australia. Or for a more advanced group, with similarly priced Bordeaux from the Medoc, Graves, Pomerol and St.-Emilion.
Such A Deal (Bargain):
This tasting is a variation of the "What's This?" tasting. Pick your varietal (i.e. Chardonnay, Merlot, Cabernet Sauvignon), and ask your guests to bring their favorite wine under $10 dollars. Note: You should not bring any club selections for this because there is nothing we send out that is that inexpensive.
Once a style or format has been selected all that is left is to invite your guests, gather the wines, uncork the bottles, remove the capsules, cover the bottles, number them in non-sequential numbers (i.e. 34, 71, 8, 22), greet your guests, give your guests something to write with, provide a little food (nothing too strongly flavored or spicy), taste the wines with everyone, have some fun, collect the guesses or choices, tally the results, unveil the wines, serve some coffee and relax because you would have just thrown the coolest tasting party of the year. Have fun!