Cru Winery
---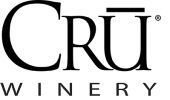 CRŪ Winery began as a dream shared by long-time friends Richard Spencer and Michael Conway. Their mutual interest in the fine wines produced by California's best vineyards enticed them into winemaking; and thus CRŪ Winery was born.
CRŪ produces a portfolio of handcrafted artisanal wines that reflect the remarkable diversity of California's coastal vineyards. CRŪ is a French term that identifies and classifies prestigious vineyards and the wines made from them. The concept includes the reputation of the producer as well as the unique qualities of the site.
CRŪ Winery understands the importance of variety when it comes to their customers. They source from several vineyards and multiple blocks within each in order to create a wide range of flavors. Chardonnay and Pinot Noir are their focus and these wines cover a wide spectrum from the most delicate to the boldly rich. Their second label Mariposa is used when they venture into other varieties.
Their goal is to deliver quality and value for every wine they produce..
---
Featured Wines: