Joullian Vineyards
---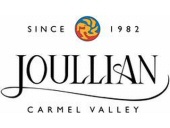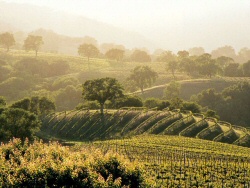 THE STORY BEGINS
Joullian Vineyards was created by the Joullian and Sias families of Oklahoma City, Oklahoma, with the goal of producing estate-crafted wines with the complexity, finesse and ageability characteristic of the finest wines of the world. Recognizing the need for estate control, the partnership embarked upon a long-term plan and soon engaged Ridge Watson, with international winemaking experience, to seek and develop the unique combination of land, vineyards and winery facilities necessary for fine wine production.
A MOUNTAIN VINEYARD
Early in 1982, Joullian Vineyards, Ltd. purchased 655 acres of hillside benchland at an elevation of 1400 feet, in the heart of the remote Carmel Valley viticulture appellation. Following extensive contouring and terracing, 40 acres of high density-spaced vines were planted in the rocky Arroyo Seco series loam. The planting emphasized Bordeaux varieties and allocated two-thirds of the vineyard to Cabernet Sauvignon, Merlot, Cabernet Franc, Sauvignon Blanc and Semillon . . . plus Carmel Valley's first Zinfandel, which was personally planted by Dick Sias. The remaining acreage, originally planted to Chardonnay, was grafted to more pre-Prohibition Zinfandel selections throughout the 1990s. Pursuing complexity in the wines, Watson planted multiple clones of each varietal from reputed sources such as Mount Veeder, 3 Palms, Diamond Mountain, Sterling, Ventana, Brandlin, St. Peter's Church and Lytton springs. The Winery, completed in the spring of 1991, was designed to handle each vineyard block separately to insure that the complex subtleties and nuances produced in the field could be transferred into the bottle.
A NEW CHAPTER
In 2015, Joullian Vineyards, Ltd. was acquired by the Hammler Wine Corporation. Owned by husband-and-wife team Tom and Jane Lerum, Hammler Wine Corporation is committed to carrying on the legacy of the Joullian brand and will continue to focus on crafting exceptional wines. With strong ties to both Oklahoma and California, the Lerums plan to build upon Joullian's historical success and ensure its sustainability for generations to come.
---
Featured Wines: