Craftwork
---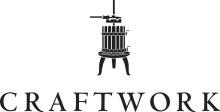 Honoring the best of traditional winemaking, our estate grown wines from Monterey are handcrafted to showcase the natural expression of the vineyard, variety and vintage. In a world of flashy technology, some might call this hopelessly old-fashioned. They call it Craftwork.
The wines of Craftwork are crafted from estate grown grapes from our vineyards in Monterey County, located in California's golden Central Coast. The Monterey County growing region is a wonder, with a myriad of soils, elevations and microclimates that allow us to grow an array of varieties. The indelible influence of the Monterey Bay and the enormous submarine canyon that lies two miles below its surface results in cool coastal conditions throughout our growing region. Each variety they grow is planted in the location that is most suitable for that grape and where we believe it can reach its full flavor potential.
The Craftwork family takes pride in the wines of Craftwork and we hope you enjoy them. In each bottle, they strive to reflect the unique soils, climate and singular quality of the Monterey growing region and California's Central Coast.
---
Featured Wines: