Guglielmo
---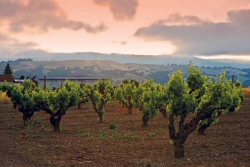 A Family Wine Making Tradition in the Santa Clara Valley Since 1925. Guglielmo Winery - a third generation, family owned winery produces a wide variety of award-winning varietals from more than 80 acres of Santa Clara Valley estate vineyards, as well as from other premium winegrowing regions within California.
Today, Guglielmo Winery (gool-yell-mo) produces nearly 40,000 cases annually under three different labels, Guglielmo Private Reserve, TRÉ, and our oldest label, Emile's. Although the winery has grown, we still abide by the family philosophy to produce natural, quality wines to share with family and friends. The family continues to oversee every phase of the winemaking process.
"Wine is a traditional part of our culture and one of life's simple pleasures to be shared with family and friends."
ESTATE
Today, third generation brothers George E., Gene and Gary retain the family tradition of producing award-winning premium varietal wine from the now more than 80 acres of Santa Clara Valley estate vineyards, as well as wines from other premium wine growing regions within California
---
Featured Wines: