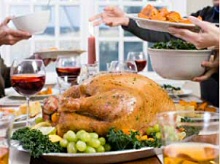 It's Thanksgiving time again and this day of the year dedicated to food and family is a great time to open some Monterey County wines. But which ones? Trying to match the perfect wine with a Thanksgiving spread can truthfully be difficult. The traditional Thanksgiving meal presents a wide array of flavors, challenging even the best sommeliers.
But wine has never been a key component of Thanksgiving fare. There were no wine bottles on the tables of the Pilgrims and Native Americans. However, of course, that doesn't mean that our contemporary culture doesn't consider wine important to a day devoted to gluttony in the company of family. But don't stress about it too much. While it'd be great to have the perfect wine(s) to open, most people are going to be more excited about the moment the turkey is carved.
Trying to pair wines can get tricky for Thanksgiving dinner. Consider the diversity of typical Thanksgiving favorites: roasted poultry, succulent ham, buttery mashed potatoes with creamy gravy, green bean casserole topped with fried onion crisps, breaded stuffing, fruity cranberries, earthy yams, and pumpkin pie. Some of these individual items pose pairing difficulties on their own. Combine them all together and we have a real challenge!
So we recommend you keep the corks in those special occasion bottles. If you have the means and desire, please proceed. But considering how you're going to really have a hard time finding a great fit anyway, for most of us sticking with a few good bottles of wine will be sufficient.
So let's explore which types may be your best bets for both white and red wines.
Thanksgiving White Wines

Pulling out a Chardonnay is oh so tempting. After all, it tends to be a crowd pleaser. But we recommend you consider something a little different, Gewurztraminer. Yup, that wine varietal that begins with a "G" which is often mispronounced. Gewurztraminer wines are aromatic and slightly spicy, sometimes off-dry with hints of lychees and nutmeg. Often these wines will have sweetness to them in one way or another, but it really works with Thanksgiving based on the wine's general lightness and versatility. Paired with turkey and sage stuffing, sweet potatoes and even pumpkin pie, Gewurztraminer will prove a surprising great partner. Trust us on this one.
Gewurztraminer grows well in cool climates, so Monterey County is a natural home to this varietal originally from the Alsace region of northeast France (which was once part of Germany, explaining the German name).
If you don't have Gewurztraminer on hand, Riesling is another great option. Actually, this is the perfect time to pull out any of those interesting white varietal wines you may have in your rack. Here in Monterey County, our wineries produce quite a few of these different white wines such as Viognier, Pinot Blanc, and Chenin Blanc.
Thanksgiving Red
Wines All these rich food flavors must call for the biggest and boldest Cabernet Sauvignons you have stored in your wine rack…right? Well, no, actually. You'd be best served keeping the corks in those bottles. Mostly because Cabernet Sauvignon is not going to ever really pair well with turkey, but it's also just not recommended as the wine could easily go unnoticed in this mélange of flavors. Instead, think of lighter, fruitier reds for your Thanksgiving feast. Young Pinot Noirs, Zinfandels, Merlots - all would be good choices. Or, how about something different, such as a light, fruity red wine which you would serve slightly chilled? This could work for some Pinot Noirs and definitely works for Beaujolaisstyle wines.
Hopefully now you have some good ideas for your Thanksgiving Day wine selection. Keep it light and keep it simple. Just let the wine contribute to the festive day's setting instead of being at its forefront. And let's all be thankful this Thanksgiving for having discovered the great bounty of Monterey County wines!