Many of A Taste of Monterey's wine club members do not have the opportunity to visit wine tasting rooms as often as they would like. While others of you have visited tasting rooms across Monterey multiple times, some have toured wineries across the globe, and some may only have the experience of A Taste of Monterey's tasting room under your belt. Hopefully you have noticed that, we, here at A Taste of Monterey pride ourselves on being one of a kind. It is not unnatural for one to leave A Taste of Monterey feeling like a wine pro. Our laidback atmosphere and knowledgeable staff unite to ensure that our guests leave happier and more wine savvy than when they arrived. Unfortunately, as you travel the world, and even up the California coast, you find that wine tasting can be a bit stiff. You often find yourself feeling belittled by wine snobbery. You just don't feel at home. To help remedy that problem, here are a few guidelines to keep in mind when you are away from your home - A Taste of Monterey.
DO research the winery prior to visiting. The Web makes research easy and you have the advantage of knowing ahead of time what wines interest you most.
DO NOT bad mouth the wine at the tasting bar. You never know when the winemaker or family member is pouring your tasting. It just isn't polite. If you don't like it, then simply don't comment.
DO use the dump bucket or spittoon if you like. Spitting is optional. The reason for spitting the wine is to preserve your palate. If you are planning to taste several wines and you truly want to experience each tasting, spitting will help to maintain your senses as well as keep your two feet on solid ground and prevent slurring.
DO NOT feel that you have to drink every wine being poured. A good move would be to ask the Wine Server, "If I was to only try 2-3 wines what would should I try?"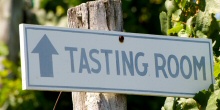 DO assess your surroundings. Most tasting rooms are not appropriate for children. However, if you bring them, just make sure that they are monitored and entertained by means other than hanging on the bar and wine bottle bowling.
DO NOT eat strong breath mints, chewing gum, or drink coffee before you taste. The flavor combination does not work with any varietal.
DO ask questions. Some wineries have short dissertations to offer on each tasting and it is nice to stay and listen until the tasting is over. Wineries are able to offer in depth information on their wines and history.
DO NOT come with a large party without a reservation. Calling ahead assures proper service and attention and perhaps even a private tasting.
DO let us serve you. Tasting rooms can get in a lot of trouble by letting customers serve themselves and not to mention, it is a big faux pas. If by chance you think you may have been forgotten, just politely get the attention of your wine server.
DO NOT show up for a tasting drunk. Take a break and let your designated driver buy you a sandwich and a bottle of water.
DO be courteous. If the bar is full, be considerate to others and step away from the bar to let them receive their next pour. Chances are, they will return the favor and you won't have them breathing down your neck with their stained wine glass hanging over your shoulder.
DO NOT wear strong perfume or cologne. Because the strong scent of the perfume can interfere with the aromas and flavors of your tasting as well as that of those around you, it is better to step back (if you forgot the rule) and minimize the palate damage for others
DO take notes. It is easy to forget specifics about wine after a few tastings
Tipping
You don't need to ask if you can leave a tip. There is never an expectation for guest to leave a tip. It is truly your choice.

You should never feel pressure or uncomfortable at a tasting room. It's WINE TASTING!!! If you feel belittled, enjoy your tasting, put on a happy face, and move on to the next winery. Wine tasting is fun and relaxing. Chances are you won't encounter many bad experiences. But if you do, just come on back to your home at A Taste of Monterey.