It is April now. The beginning of Summer is in sight. Perhaps you are starting to think of outdoor entertaining. It might be fun to "mix" things up with what wines you serve your guests. Mix can be taken literally and figuratively. In a past newsletter we shed some light on sangria, a refreshing beverage easily enjoyed on a warm evening. Unfortunately, many only consider this fruity concoction while traveling abroad, far away from our peers, for fear they may see us drop a few cubes of ice and some peaches into our Bordeaux. After all, wine is a delicate and sophisticated beverage. Much toil goes into the final product that finds its way to our table. From the crushing of the grapes to the pulling of the cork or twisting of the cap, finished wine is rarely altered. Do we dare tamper with the results? Yes!
We here at A Taste of Monterey could not wait to make a batch of that Sangria. As it turns out, it not only tastes magnificent, but it makes you brilliant. A couple of glasses later, we were inspired to come up with some cocktails of our own.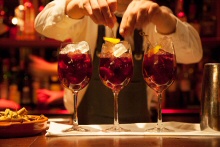 Unlike liquor cocktails, think of wine cocktails as the "keep your clothes on cocktail." It is the marriage of sophistication and fun. There are no rules for the blending of wine cocktails, but here are some suggestions to keep in mind. Do not spend a lot on your vintage selection. These are fun drinks that should not break the bank. So, adding some melon slices to your $60 Meritage will not impress your friends. From time to time you will come across lighter fruit-driven wines, both white and red, that make perfect candidates for enhancing with creative additions.
Here are a couple of options to keep in mind when making your wine cocktail. You may use fruit, liquor, or a splash of cognac. Try pouring a fruity dry Riesling or Viognier over some frozen grapes and into a martini glass. It is a beautiful and refreshing alternative to a gin martini. You could consider adding a bit of gin, Campari, or amaretto as you strive to mix the perfect wine cocktail. A simple addition of a complementary slice of fruit can be all it takes to transform a good wine in to an interesting and festive drink. There is a rumor going around that the Elder Rock Petit Sirah is delightful chilled with a slice of orange inside the glass. Not into chilled red wine? Try a slice of mango with a crisp and light well-chilled Chardonnay.
Don't be afraid to try something new. Maybe at your next party you can put out a selection of wines, fruits, and cognacs and let your guests make their own wine cocktail masterpiece. Check out some of these classic recipes for a little inspiration. Have fun mixing it up.
Bishop
In your cocktail shaker place cracked ice and the following ingredients:
• 3 ounces red wine
• 2 ounces lemon juice (Be aware that bottled juices are sweeter than fresh. Always use fresh juice for the best results.)
• 2 teaspoons simple syrup (To make your own simple syrup, dissolve two cups sugar in one cup water, until the water
boils. The longer you boil the water, the stronger the syrup. It should be the consistency of olive oil not honey.)

Shake ingredients together and pour into a chilled cocktail glass. Garnish with an orange twist.
Le Perroquet
Into a chilled Champagne flute pour the following ingredients:
• Dash gin
• 2 dashes Campari

Top with 4 ounces champagne or sparkling wine. Twist a mint leaf over the drink, and discard. Garnish with a twist of lemon and orange.
Loving Cup Wine Punch
• 1 bottle red Burgundy wine
• 1/2 cup brandy
• 1/3 cup Triple Sec
• 2 liters club soda
• 1 Tbs corn syrup
• 1 cup strawberries
• 1 bunch red grapes
1. At least one day before you make the punch, wash the grapes and remove from the stem.
2. Place the grapes in a freezer bag and place in the freezer.
3. In a punch bowl, mix all the ingredients except the club soda. Stir well.
4. Add 1-cup ice cubes or an ice ring to the punch bowl.
5. Add the club soda, frozen grapes, and strawberries.
6. Serve in punch cups or wine glasses.