Chardonnay…What are your first thoughts when you hear the varietal's name? White, golden, buttery, creamy, oaky, tropical fruit flavors - all easily come to mind. The varietal is an intriguing subject as it is grown and produced by wine rookies and veterans alike around the globe. Chardonnay produces menial, mass-produced wines and highly specialized wines alike.
Everyone has heard of Chardonnay, but where did it originate? You've perhaps noticed that Chardonnay appears to be from pretty much every wine region out there, and you see it from places you didn't even know produce wine. Chardonnay's original home is Burgundy in eastern France, which also happens to be Pinot Noir's motherland (interesting to note that Monterey County shares the distinction of producing world renowned Chardonnay and Pinot Noir wines).
Some of the finest Chardonnays are from Burgundy, although the history of the grape there is ironic. Historically, the grape was so widely planted and used for wine it was generically referred to as "White Burgundy." Today is quite a different story as Chardonnay is revered and held to great esteem. Due to French labeling traditions, you'll not often see "Chardonnay" on a French wine bottle, but popular growing areas you may recognize include Montrachet, Côte de Beaune, Mersault, and Mâconnais. These Chards tend to present butteriness, but not oakiness.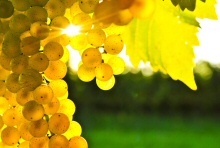 In France, Chardonnay is also grown outside of Burgundy, notably in the Chablis and Champagne regions, and in Chablis, Chardonnay is often quite the opposite of both buttery and oaky. Yes, "Chablis" is actually Chardonnay, despite the fact that it became used as a general term for any mass- produced white wine. And you may be surprised that, as in France, the majority of sparkling wines in the world are made from Chardonnay grapes.
Why are Chardonnay wines seemingly produced everywhere? To explain, we need to jump into the vineyards and dive into the barrels. However, the quick answer is that it's reputed as one of the easier varietals to grow and coax into wine - don't think this indicates though that it is only a mediocre varietal unable to display greatness.
In the vineyards, Chardonnay is the typical make or break varietal. It's the varietal most often planted by a new winery in a new area….the thought being that if one can produce a good wine with it, they will have graduated and can move on to other varietals.
That is not to say that it's a carefree endeavor at all. The varietal is early budding, making it susceptible to spring frost damage. The vine is also prone to a host of other vineyard complications, including being highly vigorous and requiring intensive pruning and canopy management. Harvest time is also very critical as the grapes quickly lose their acidity just after ripening, and if they are not harvested promptly, the juice produced from the grapes will suffer for it.
The grape is famous for its ability to adapt to conditions it is exposed to. Chardonnay is considered to be "malleable" by growers and winemakers. This means that it is very eager to embrace its terroir conditions and also a vintner's particular style.
In winemaking, Chardonnay is made in all forms from still to sparkling to late harvests. After considering terroir conditions that may influence the grape, the two most important factors impacting Chardonnay wines are oak and malolactic fermentation, both of which result in two characteristics most often associated with Chardonnay wines: oakiness and butteriness. The wine would not have these characteristics otherwise, explaining why you see new world Chardonnays which have neither oak or butter and are instead lighter and fruiter in style. These wines tend to exhibit tangy flavors such as green apples and tropical fruits. If malolactic fermentation (sometimes referred to as secondary fermentation) is not introduced by a winemaker, butteriness will not be present. Also, if the wine is not oaked during fermentation and later barreling, there will be no oakiness. Other winemaking influences include temperature during fermentation and time spent aging "on the lees" (i.e. the wine's contact with dead yeast cells after fermentation - called sur lie aging).
Let's talk food pairing for a moment. Chardonnay is actually considered difficult to match with food, especially heavily oaked and buttery Chards. Although if you think about it, match oak to oak/toasty flavors, and match butter to butter as much as possible. Heavily-oaked Chards can pair well with smoke-flavored and spicy cuisine. And buttery cream sauces are a great fit for buttery Chardonnays.
In the U.S., one can find Chardonnay vines planted in more than 30 states. Although, let's be honest …Chardonnays from Iowa or New Jersey really don't compare with those from California. Chardonnay was first planted for commercial production by Wente Vineyards in the Livermore Valley in the 1940s. Monterey, Santa Barbara, Napa and Sonoma Counties produce the most prominent Californian Chards. California's Chardonnay first reached acclaim and world-recognition when Napa's Chateau Montelena beat out French competitors in the 1976 blind tasting event known as the Judgment of Paris (Monterey's own Chalone Vineyards came in third place at the event).
These days in Monterey, we still find a wide variety of Chardonnay wines produced and offer some of the finest, not only in California, but in the world. The coastal influenced Santa Lucia Highlands AVA, in particular, is a spectacular setting for Chardonnay vines, which is reflected in its numerous outstanding Chardonnay wines.
In recent years, there has been a trend for winemakers to move away from the oaky or buttery style Chardonnays in favor of producing "clean" and crisp wines, often highlighting muted pineapple or apple undertones. Although these stainless steel aged and/or no malolactic fermentation Chards are interesting and savored by some, it's clear that there will always be a significant group who love the big oaky/buttery Chardonnay. Here at A Taste of Monterey, we're honored to showcase some of the best Chardonnays found anywhere.
.