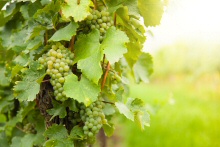 Pinot Blanc (or Pinot Bianco) is a semi-dry white wine that is often compared to Chardonnay. It is typically crisp and refreshing and, depending on where it's made, it can be sweet or have nutty flavors. It's very common for winemakers to use the Pinot Blanc grape when making sparkling and sweet dessert wines as well.
You will find that Pinot Blanc is a fascinating little wine that doesn't get a lot of attention but it is in more wines than you may think.
What is Pinot Blanc? - In France, it is known as Pinot Blanc (PEE-no blahnk) and in Italy it is Pinot Bianco. No matter which name you use, this varietal of white wine grape produces a medium-dry to dry white wine that is familiar throughout the world.
The Pinot Blanc grape originated from the Alsace region of France. It was modified from the Pinot Grigio grape, which is a variation of the Pinot Noir grape. This relationship between the two white wines and the famous red explains the shared name.
Compared to Pinot Grigio and Pinot Gris, Pinot Blanc is rounder and is typically less acidic. The fruit flavors of Pinot Grigio also tend to be brighter.
Generally, oak is not used in the maturation process of Pinot Blanc. It is typically a still wine, though it is often a base for sparkling wines (particularly in Italy and California) or as a sweet dessert wine such as the ice wines.
This white wine's softer characteristics make it a good match for foods of a similar profile. The wine will be lost in a meal made of flavorful or spicy foods, so keep the food flavors light and airy.
Some good options for a Pinot Blanc pairing include seafood, light-flavored meats, light to medium sauces (particularly white and butter sauces), and mild-flavored cheese choices.
.