Description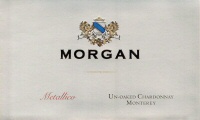 Tasting Notes
Metallico's aromatics are intense with backed apple, asian pear, and candied ginger. The palate has ripe fruit flavors of lemon zest and grapefruit. Crisp, food-friendly acidity keeps this special wine refreshing and bright. A perfect accompaniment to shellfish and lighter summertime fare.

Varietal
Chardonnay, in its purest form, unadorned by oak. Select clones from top growers display intense tropical fruit and mineral aromas. Fresh, vibrant Chardonnay.

Vintage
The 2015 growing season saw a continuation of the drought in California. The lower than normal rainfall totals and dry winter led to early budbreak. The vineyards' proximity to the Monterey Bay mitigated the few heat events, allowing for a fairly normal, gentle, long ripening period. Fruit quality from the 2014 vintage was uniformly excellent.
Winemaking
Upon arriving at the winery, the grapes were whole-cluster pressed. After pressing, the juice was cold tank fermented, retaining the essential bright fruit and mineral characteristics. The wine was not allowed to go through a secondary, malo-lactic fermentation and saw no oak aging, thus preserving the natural acidity and fruit flavors.
Metallico is Chardonnay in the purest form, without an overlay of oak or malolactic fermentation to mask any of its fruit expression. Aromatics, intense fruit character and bright acidity are the goals here. This vintage of Metallico is composed of fruit from the Santa Lucia Highlands, Arroyo Seco, and Monterey appellations.
Vineyards
The grapes were hand picked and sorted in the vineyard. Whole cluster pressing preserved the fruit flavors and natural acidity. We barrel fermented in 32% new French oak, along with a combination of one and two year old and neutral barrels. Partial malo-lactic fermentation ensured a creamy richness balanced by bright fruit acidity.