Pronunciation: vee-oh-NYAY
Viognier is a full-bodied white wine that originated in southern France. Most loved for its perfumed aromas of peach, tangerine and honeysuckle, Viognier can also be oak-aged to add a rich creamy taste with hints of vanilla. If you love to brood over bolder white wines like Chardonnay, Viognier is definitely something you'll like to swirl.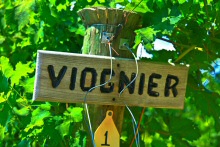 Viognier is for those who love to stop and smell the flowers. Viognier ranges in taste from lighter flavors of tangerine, mango and honeysuckle to creamier aromas of vanilla with spices of nutmeg and clove. Depending on the producer and how it's made, it will range in intensity from light and spritzy with a touch of bitterness to bold and creamy. If you like Chardonnay you'll like the weight of Viognier and notice it's often a little softer on acidity, a bit lighter and also more perfumed.
On the palate, the wines are typically dry although some producers will make a slightly off-dry style that embellishes Viognier's peachy aromas. Viognier wines are almost always noted for an oily sensation on the middle of the tongue which is a characteristic of wines made with this grape. The drier styles come across less fruity on the palate and deliver subtle bitterness almost like crunching into a fresh rose petal.
The trick to pairing foods with Viognier wine is to fully respect its delicate floral notes and medium acidity. Thus, as a general rule, focus on embellishing and expanding the wine's core flavors while making sure that the foods you pair with it aren't too acidic or bold. A great example might be to match a bolder weight Viognier from Monterey with chicken tangine with apricots and almonds served over a saffron rice. The aromas in the dish should heighten the fruit flavors and creaminess in the wine.