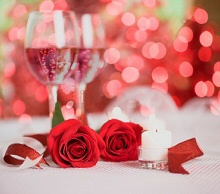 Whether you call it a Rosé, a Blush, or a Rosado, what we are talking about here are pink wines. Unfortunately, these wines have a bad reputation that stems back from Sutter Home's introduction of their White Zinfandel in the late 1970's. Many people think of pink wines as cheap, sweet and thin and refer to them as a 'starter wines'. This couldn't be farther from the truth. Simply stated, the popularity of these pink-tinted wines is on the rise.
So what is a Rosé (pink) wine anyway? It is a 'white' wine made from red grapes. The color pink comes from the brief contact between the skins of the grape and the juice after crushing. This contact can be anywhere from a few hours to a few days.
Rosés can be made from any red wine grape but different countries favor different varietals. For example, in France, the most common varietals used are Cinsault, Grenache, Mourvedre and Syrah which are from the Rhone or Loire regions. Spain's preference of varietals for their Rosés is Grenacha and Tempranillo. And here in the United States, we produce a number of different Rosés from Zinfandel, Cabernet, Merlot, Pinot Noir, Sangiovese and Syrah.
There are a variety of different methods for making a Rosé wine. One method is referred to as 'skin contact'… red grapes are crushed, and the skins are allowed to remain in contact with the juice for a short period of time. The grapes are then pressed, and the skins are discarded. Another, more traditional, method is called Saignée, which is referred to as 'bleeding the vats'. The Rosé is basically a by-product of a red wine fermentation. When the wine maker is looking to impart more tannin or color to a red wine, some of the pink juice can be removed and then fermented. Finally, a far less common method is blending… mixing a red wine with a white wine to create a pink wine.
Contrary to popular belief, not all Rosé wines are sweet… many, are in fact, dry. The flavors of these wines tend to be a more subtle version of their counterparts. Strawberry, raspberry, cherry, citrus and watermelon are the most common flavor profiles. Rosés come in a variety of colors ranging from light pink to orangey-pink to vibrant hot pink, which is directly related to the amount of time the juice was in contact with the skin.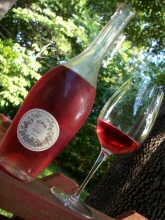 Rosés are one of the most versatile wines and are perfect for Spring and Summer. They are served chilled, similar to white wines. They pair well with any number of warm weather foods or can be enjoyed on their own. There are numerous occasions to sip on a glass of chilled Rosé, and here are some suggestions for you…
Perfect for a picnic, or on warm, sunny days. Pack a bottle in your beach bag. Works well as an accompaniment to hamburgers and hot dogs with all the fix'ins at a backyard barbeque. Host a Sunday brunch with a Rosé and a cheesy egg dish. Want a red wine, but it feels too heavy? Go with a Rosé! Serve it on Valentine's Day or at a Bridal Shower. When you are eating different meals that don't pair with either a white or red. Have a glass with hot or cold ham or other pork dishes. So, this month we invite you to enjoy Sofia Rosé, and try our favorite match, a fish taco recipe that follows and celebrate the arrival of Summer!