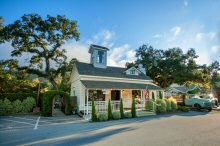 Cima Collina roughly translates as "hill top," and there's really no better way to describe the quality Cima Collina winery produces. Here at A Taste of Monterey, we are excited to have Cima Collina represented as one of Monterey County's top wineries. A quote from winemaker, Annette Hoff, truly reflects the character and approach of the winery.
"Local flavors are as diverse as the Monterey County landscape. From the rugged Big Sur coastline to the prairie lands of Arroyo Seco, every vineyard develops its own set of diverse flavors. It is our passion to discover these local flavors and produce unfined, unfiltered wines that reflect a sense of place. Our meticulous, artisan approach preserves and enhances these local flavors from the finest Monterey County vineyards."
Cima Collina's tasting room is located in Carmel Valley Village in a building originally constructed in the 1880s as a creamery owned by a Carmel Valley pioneer, William Hatton (locals will recognize the name's legacy in the name of a particular canyon). This creamery produced our very own Monterey Jack cheese. Yes, it really was first produced here in Monterey County.
After its creamery days were through, the building served as Carmel Valley's first post office. You can't get much more grounded in Monterey County than housing your tasting room in a building tied so delicately to the area's history. Or maybe you can?
How about if your vineyard manager is a descendent of an Esselin Native American who helped Father Junipero Serra construct the original Carmel Mission? Cima Collina has that in their vineyard manager, Tom Nason.
Cima Collina's own estate vineyard is located roughly a half-mile east of the Village on part of a historic ranch. The vineyard was planted, on a hill top, in 2002, with an initial harvest following in 2005. The vineyard is planted with 4 acres of Pinot Noir and about a half-acre of Pinot Gris.
And this brings us to another element of mindset of the winery – the drive to make wines from areas of Monterey County which produce new and exciting characteristics. After all, planting Pinot Noir fruit in Carmel Valley, which has traditionally been Bordeaux varietal land, is bold in itself. But Cima Collina also carefully selects grapes from exceptional growers in the County. This includes from traditional proven enclaves, such as Pinot Noir from the Santa Lucia Highlands, Chardonnay from the Salinas Valley, and Bordeaux and Rhône varietals from the San Antonio Valley AVA.
But how about taking that sense of boldness a step further? Everyone knows the western slopes of the Salinas Valley produce amazing Pinot Noir grapes (Santa Lucia Highlands), but how about the eastern slopes? Along with a couple of other adventurous wineries, Cima Collina sees great potential for this area to produce outstanding Pinot Noir and Chardonnay as well, reflected in their choice to source grapes from the Chula Vina vineyard in the foothills of the Gavilan Mountains.
And location sourcing isn't all of it. Varietal choice is another interesting facet of Cima Collina's style. Toss in some Pinot Blanc and Mourvedre from the Chalone AVA, some Sauvignon Blanc from the Cedar Lane vineyard, and the always avant-garde Riesling from the Santa Lucia Highlands…these all add up to firmly displaying a winery willing to take risks.
And that risk continues through their winemaking process. Most wineries would be hesitant to produce unfiltered and unfined wines – but not Cima Collina and their winemaker, Annette, who may be described as obsessive in her quest for quality. And Annette's past adds another layer of intrigue to the Cima Collina story.
Annette has been involved in wine production since 1994, initially gaining experience in Napa County's Klein Family Vintners, Sterling, and Saintsbury. And it was while at Saintsbury that the mystique of the Pinot Noir grape enraptured her. This led to a Pinot Noir vision quest taking her to wineries of New Zealand and then to a return to Monterey County to become the Pinot Noir winemaker at Estancia.
Eventually, Annette followed her dream to be involved in the creation of a new winery showcasing high quality wines from our diverse and emerging wine region. The result is Cima Collina, and Monterey County is very pleased to have this winery as one of our best. Annette's own words regarding her appreciation for wine best sum up this article.
"I remain captivated by wine because it reflects life. It has an innate ability to convey a sense of place, the people involved in its creation, and the sensory attributes of the world around us." We couldn't have said it better.