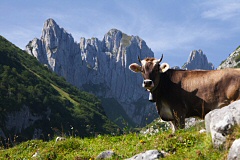 Appenzeller cheese, made in the Appenzell region of northeast Switzerland, dates back over 700 years. It is a hard, cow's milk cheese made from untreated or raw milk and truly natural with no preservatives or additives. The spicy flavor comes from the closely guarded secret herbal bath given it during production and aging. The recipe is enhanced by the fact that the cows graze on lush herbal grasses and fresh hay – never silage. Great care is given to the animals. The cows are given regular and frequent visits to the grazing fields so everything can be as natural as possible for them, even in winter.
There are several Appenzellers to choose from. All are made from untreated raw milk. Most contain 48% fat in dry matter, which is specifically measured to ensure consistent taste.
Classic - This version is aged for 3 months and is mildly spiced. The cheese is ivory-colored to light yellow with a yellow to reddish brown natural rind. It's identified by its silver color label and it represents 45% of Appenzeller sales.
Surchoix - Strong spiced cheese aged over four months. It has the same ivory-colored appearance and reddish brown rind as the classic. The cheese is identified by its gold label and it represents 45% of sales.
Appenzeller Extra - This cheese is aged six months or longer and only the best ones are selected and handled by the best master cheese makers. The cheese is ivory to yellow in color but the natural rind is reddish to dark brown. It's identified by a black and gold label. This cheese represents only 2.5% of sales.
Appenzeller BIO - This cheese was first made in 1996. It is similar the Appenzeller Classic. The only difference is that it is made from organic milk and it has BIO on the label which means it is produced with BIO-SUISSE guidelines for organic milk production. This cheese represents less than 1% of sales.
.