Rosé wines have come a long way. We're well beyond the days of White Zinfandel being the only association with a wine that is not red or white. Yet…it's surprising to discover that many people still assume a pink wine will be sweet, which is very much not the case. And while rosé wines can certainly still be on the sweeter side, and there some out there, rosé wines made all over the world are more often produced in a drier form.

In fact, it's believed that the red wines made during Roman times were more akin in appearance and style to the rosé wines of today.
There are three different ways to make rosé wines. The first is through skin contact, called the maceration period in winemaking vocabulary. This is the most used way to produce rosé wines. It involves the early pressing of red grape varieties after a period of normally twelve to twenty-four hours of the juice being in contact with the grape skins. The limited exposure to the skins imparts the pink color to the wine, and the exact time duration and varieties used will determine just how pink in color the wine will ultimately be. This explains why you'll see rosé wines ranging from a pale, almost light orange, to dark violet and purple rosé wines.


The next way to make rosé wines is known as the saignée method. Saignée, "bleed" in French, is the process of bleeding off some of the juice of a red wine during the winemaking to have a more concentrated color and ultimate flavor in a wine.
The last way to make rosé wines is to simply blend red and white wines to produce a rosé wine. However, this method of producing rosé wines is discouraged in most wine regions and even forbidden by law in some countries.

The popularity of rosé wines in the United States actually began prior to the appearance of White Zinfandel and other new world rosé wines, often referred to generally as blush wines. After World War II, two Portuguese wine families released sweet, slightly sparkling rosé wines to primarily target the American market. These easy-drinking wines by Mateus and Lancers were very popular for some time.

One would think that the rise of blush wines in the States was in response to competing against these imports. Ironically though, legend has it that the first White Zinfandel was created accidentally. One fateful day, Sutter Home's winemaker encountered a problem known as "stuck fermentation" while making a red wine from Zinfandel grapes. With the fermentation process upset, a pinkish, sweet wine resulted and a new era in American wines began. Before long, Sutter Home, Beringer, and others were pumping out White Zinfandel, White Merlots, and Cabernet Blancs…all considered blush wines.

Those Portuguese exports aside, western European wine regions have a long history of producing mostly dry rosé wines. In France, you'll find rosé wines from places like Bordeaux and Burgundy, and even sparkling rosé from the Champagne and Loire Valley growing areas in the north. But the real French rosé comes from where it is described as the taste of summer in a glass. Provence and the Rhône Valley have outstanding rosé wines, with rosés being most of Provence's total wine production. Rosés from this area of southeast France bordering the Mediterranean Sea are made from a wide range of varietals, but Syrah, Grenache, and Mourvedre make up the majority of varietals used for rosé wines.
Rosés are also very popular in Spain, where they are produced primarily from Grenache and known as rosado. Portugal and Italy also both produce a variety of rosé wines.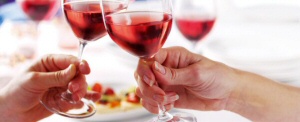 Rosé wines are made in a variety of forms in the United States, from sweet to semi-dry to dry, across the country with too many different varietals to list. Here in California, rose wines are produced pretty much in all of our growing areas. The growing popularity of dry and semi-dry rosé wines may be due to their versatility.

As rosé wines can be made, and are made, from such a wide range of varietals – Cabernet Sauvignon to Pinot Noir and pretty much every varietal in between – the aromas and flavors of rosés are equally varied and heavily influenced by the varietal(s) used. Melons, peaches, strawberries, mandarins, flowers…all and many more may be present in rosé wine flavor profiles. Equally, the color of rosé wines is greatly influenced by the varietal(s) used to make the wine.
However, one factor generally considered as a universal characteristic of rosé wines is this: these are not meant to be serious wines. Nearly all rosé wines are meant to be approachable and not overly-sophisticated. This is true for a Monterey County Pinot Noir rosé, a French Rhône rosé, or even a glass of blush. And although rosé wines can be served warm, most prefer these wines to at least be slightly chilled.

Another universal characteristic is that these wines are not meant to be aged. Waiting too long in the bottle can actually end up damaging the wine. So now that we're into warmer summer days, the time is perfect to explore the pleasant diversity of rosé wines. We currently offer three excellent Monterey County examples for your experimentation purposes from Ventana, Fieldfare, and Silvestri and invite you to enjoy summer in a glass!