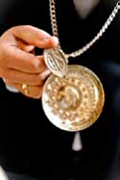 Ever thought it'd be fun to be a sommelier? Even those of us in the wine industry have considered how it would take our wine knowledge to another level by taking the sommelier path. But that path is not one to take without a lot of consideration and dedication behind it. While wine stewards, wine waiters, or even sommeliers by name are plentiful in fine dining restaurants around the world, the top tier, the Master Sommeliers, are not. Since 1969 only 227 people from around the world have reached this glorified status. That averages out to about five people a year. That's five people a year… in the world.
But before then, one must start at the beginning. And, we shall as well.
Although there is some industry squabbling about who exactly can be considered a sommelier (is it someone who actually works in the industry or someone who has simply passed some of the exams?), we're going to sidestep that discussion. We'll just go with a sommelier as someone who is a trained and knowledgeable wine professional, normally working in a fine dining restaurant environment, who specializes in all aspects of wine service as well as wine and food pairing. So while someone may be a qualified wine waiter in a restaurant, the role of a sommelier is more specialized and informed than that of a wine waiter. Picture it this way: the wine waiter is like a nice bottle of wine – not an everyday wine, but more of semi-special occasion bottle; the sommelier is definitely a special occasion bottle – one you think twice about before uncorking.
But the role of a sommelier goes far beyond just food and wine pairing. A sommelier may also be responsible for the development of wine lists, delivery of wine service in restaurants and training for restaurant staff. A sommelier will work with chefs to pair wines that will best complement particular menu items. Our modern day sommelier's role may be even considered broader than working only with wines, and may encompass all aspects of the restaurant's service, including beers, spirits, and cocktails.
However, knowledge alone is not enough to be a true sommelier. A professional sommelier also works on the floor of the restaurant and is in direct contact with restaurant patrons. The sommelier has a responsibility to work within the taste preference and budget parameters of the patron and a respectable amount of charisma is required. This high level of clientele service expected of a sommelier is often over-looked. Though sommelier is a job title potentially anyone may claim, becoming a professional certified sommelier often requires some combination of experience, training, formal education, classes and examinations.
Though one can be a sommelier in name through experience alone in the restaurant or wine industry, many choose to become certified by one of the many certifying bodies. Perhaps the most widely accepted certification body is the "The Court of Master Sommeliers." This is the group that designates the Master Sommelier level mentioned earlier.
The arduous quest that one must undergo to reach the Master Sommelier level is thoroughly displayed in the documentary Somm. If you watch this enjoyable film, you'll be introduced to a Master Sommelier named Fred Dame who grew up here on the Monterey Peninsula and began his career just up the street at The Sardine Factory (which also happens to be on our No Corkage Fee restaurant list). This guy's talents are stuff of legend. He passed his Master Sommelier exam without even tasting the wines – he only needed to smell them.
To understand the process a little better, I reached out to a former A Taste of Monterey employee currently pursuing the Master Sommelier title. Local Wine Club members may remember Kaela Miller working behind our tasting bar in years past. These days Kaela works as a sommelier in San Francisco's The Battery and is studying to reach the Master level.
Basically, there are four levels to reach the Master Sommelier pinnacle, with an examination for each level. The first level is not overly difficult to pass (a day-long course with an exam at the end is achievable by most people with a rudimentary wine knowledge). However, the exams grow increasingly and considerably more difficult after the first one. Kaela has passed two of the exams and is studying for her third. She plans to pass the third level next year and then pursue the ultimate fourth level. We wish her best of luck as it's going to be no walk in the park (watch Somm and you'll know what I mean).
And, when I asked Kaela how valuable her A Taste of Monterey experience was in her wine knowledge development, her answer was immediate: undeniably helpful. So it appears that our Monterey County wine ambassadors are sommeliers, and maybe even Master Sommeliers, in the making!