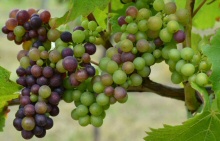 Pronunciation: pee noh blahnk
Pinot Blanc may not receive the same respect given to noble varieties like Chardonnay and Riesling, or even other Alsatian whites like Pinot Gris and Gewurztraminer. But at its best, with grapes from low-yielding vines, Pinot Blanc can produce exciting values: creamy, medium bodied wines, with honey-like aromas and flavors.
A relative of both Pinot Gris and Pinot Noir, Pinot Blanc is grown in a number of countries under a variety of names. In Germany, it is Weisseburgunder, while in Italy, it is called Pinot Bianco.
Still, the fact that we are most familiar with the grape as Pinot Blanc is a dead tip-off that the best examples of the grape come from France. In France, Pinot Blanc is most notably grown in Alsace, where it is either bottled on its own, used as a major component in the sparkling wine Cremant D'Alsace, or blended with other varieties in the region's traditional wine, Edelzwicker. We don't see much Edelzwicker, since the export market for this wine is virtually non-existent. But we're happy that we can get a decent amount of single-varietal Pinot Blanc from Alsace; the wine is made in some form by almost every Alsatian winery. These can be rich, sometimes tropical, smoky wines that are low in acidity. Look for offerings from Domaine Marcel Deiss and Domaine Schoffit.
In the U.S., some California vintners are producing Pinot Blanc with the same techniques used to make expensive Chardonnay, including new oak and malolactic fermentation.