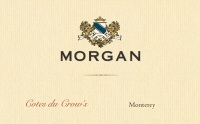 Tasting Notes
This Rhone-style blend has a rich ruby red color, highlighted with purple edges. Black berry, rose petal, and raspberry aromas jump out of the glass. The wine is medium-bodied with soft tannins; it offers a mouthful of sweet pomegranate, black cherry and cinnamon stick. Its weight and balance make it a perfect pairing with anything off the grill.

Vineyards
Sourced primarily from the Arroyo Seco and San Lucas appellations of Monterey County. Warmer daytime temperatures are mitigated by ocean breezes and cool nights - fostering acidity and balance.
Blend
Cotes du Crow's is our unique blend of the two noble, predominant red varietals of France's southern Rhone Valley: Grenache and Syrah. This year we decided to use a small amount of Tempranillo, its spice and earth tones are a beautiful complement to Grenache and Syrah. Cotes du Crow's is a blend from central and southern Monterey County. Here, the fog burns off early, allowing ample sunshine to warm temperatures to the mid to upper 80's during the summer and fall. The rising warm air draws the cool winds from Monterey Bay in the late afternoon. By night time, temperatures cool to the low 50's.
Vintage
The growing season saw a continuation of the drought in California. The lower than normal rainfall totals and dry winter led to early budbreak. The vineyards' proximity to Monterey Bay mitigated the few heat events, allowing for a fairly normal, gentle, long ripening period. Fruit quality from the vintage was uniformly excellent.
.