Pronunciation: ee-duhm
Edam Cheese is a semi-hard, pale yellow Dutch cheese with a mildly-tangy and slightly salty taste. Traditionally the cheese is made in a ball shape, but you may also spot it in squat rounds, or a loaf shape. It is a commercial cheese made in cheese factories.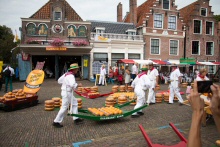 As of December 2010, there are now officially two types of Edam cheese. There is the generic Edam-style cheese, which can be made anywhere in the world, and a protected name type which must be made only in the Netherlands following strict guidelines. The generic Edam-style cheese is just known as "Edam Cheese."
Edam is made with partially-skimmed pasteurized cow's milk. The milk is heated to 86 degrees F (30 C), and bacteria is added. Then, rennet is added to create curd. The curds are cut into small pieces, heated to 104 F (40 C), then drained of the whey, moulded and pressed into small balls or wheels and salted. It is let ripen at 50 F (10 C.)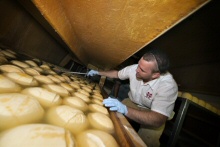 Baby Edams, generally under 2 1/2 pounds (1 kg) in weight, are meant to be eaten young, within weeks of being produced. When young, the cheese has a very supple texture, with a very mild, slightly nutty taste.
Some Edams, though, especially larger ones, are aged to let them develop a more complex flavour. Aged ones will be drier, and saltier tasting.