Petite Sirah (aka Durif or Petite Syrah) was first found growing in France in the mid-1800's. It's loved for its extraordinary deep color and full-bodied flavors of blueberry, chocolate, plums and black pepper. Despite its popularity, Petite Sirah is an exceptionally rare grape with less than 10,000 planted acres worldwide, growing mainly in California.
Fast Facts About Petite Sirah
History: Petite Sirah (or Durif, as the French call it) was first discovered in the vineyards of botanist Francois Durif shortly before 1868 in eastern France (by Grenoble). The grape is a natural cross between Syrah and the even more rare: Peloursin.
Serving: A slightly cooler temperature (65 ºF) will deliver more floral and mineral aromas along with Petite Sirah's characteristic bold fruit.
Decanting: Petite Sirah with such high tannin is the perfect red wine to pour in a decanter and let it evolve for 2–4 hours (if you can wait!).
Aging: This warm-climate grape often loses too much acidity and fruit within the first 7 years to make it a contender for longer term aging. That said, a few producers have made some outstanding wines that will age 10–20 years. If you're looking for this, check that the acidity and fruit are in balance with the tannin (they will be big, but in balance!).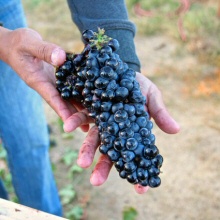 Anti-Oxidants: Petite Sirah is one of the deepest, most opaque red wines with very high levels of anthocyanin (an antioxidant). Similarly colored wines to Petite Sirah include Tannat and Sagrantino.
.