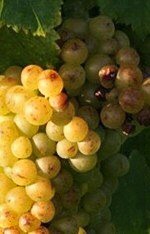 The first mention of wine in modern literature occurred in the Book of Genesis's story of Noah's Ark. After the Ark landed on Mount Ararat, one of Noah's first acts was to plant a vineyard. The most likely grape: a Muscat. Muscat is a group of similar grape varieties (200 in all) in which the most familiar are Muscat Ottonel, Muscat of Alexandria, and Muscat Canelli. It is thought that Muscat Canelli probably originated around the Mediterranean and it spread from there. The Greeks brought cuttings with them to the Crimea, the Romans and Phoenicians took it to Europe and event the Egyptians sent cuttings as far south as present day South Africa.
Today Muscat Canelli is cultivated throughout the world; it is known as Muscat Blanc à Petits Grains ('Muscat with small berries') in France, Moscato di Canelli in Italy where it is used to make Asti Spumante and semi-sparkling Moscato d'Asti, Muskateller in Germany, and Muscat Lunel in Hungary. In the United States, Muscat Canelli is primarily grown on the west coast.
Muscat wine styles vary from light and bone dry, to low-alcohol sparkling versions, to very sweet, thick, and alcoholic potions. Modern enological techniques such as skin contact (maceration pélliculaire), selected yeast cultures, and controlled low temperature fermentations can help extract or produce the aromatic compounds that retain or enhance the natural fresh "grapey-ness" of muscat, but this character holds up even submitted to the rigors of fortification and long aging.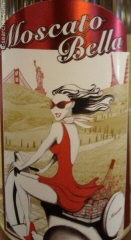 Muscat was introduced to California in the 1850s, imported as a table grape from New England nurseries and a few wineries dabbled making dessert wines in small batches. Following the repeal of Prohibition, Napa's Beaulieu Vineyards, among others, popularized a dessert wine they called Muscat de Frontignan. The TTB outlawed this designation on wines labeled after 1996, permitting only Muscat Blanc and Muscat Canelli henceforth on American wine labels.
California had barely 100 acres of muscat blanc in 1961, over 400 by 1971. Since 1981, muscat blanc acreage has been fairly steady at 1,100 to 1,300 acres. Muscat orange, which has a distinct orange blossom aroma, is grown on 135 acres. Muscat of Alexandria, with less distinctive aroma and flavor than muscat blanc, but which thrives in warm growing areas, is planted to over 5,000 acres of California vineyards (mostly Central Valley). It sets a very large crop of fruit that can get very sweet, but its resulting wine aroma is simply sweet and flavor merely fruity. Why endeavor or risk attaining quality when making mass quantities of mere mediocrity brings comfort?